Overview
THE EFFICIENT ONE
Whether field cultivation or special crops: MDS 18.2 offers the optimal solution for each application. The compact design is convincing due to its easy handling and short centre of gravity distance.
Benefits
Multi-Disc System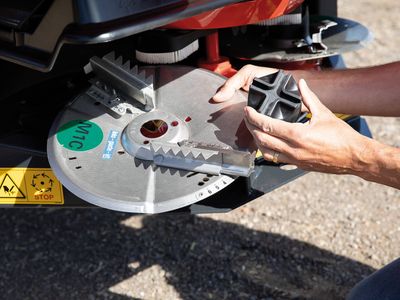 The tried and tested multi-disc system, which gives the MDS fertiliser spreader its name, is all about the spreader discs. The simple adjustment of the spreader vanes in length and angle enables the fertiliser spreader to be perfectly adapted to different materials and spreading widths. It's precise and reliable when it comes to normal fertilisation, late fertilisation and yield-optimised spreading near field boundaries (right and left side).
This means: highly precise fertiliser distribution and the achievement of exact spreading patterns for all types of fertiliser, fine seeds and slug pellets.
Thanks to the clearly visible, three-dimensional position display, the spreader vanes can be easily adjusted in length and angle even after long use.
E-Click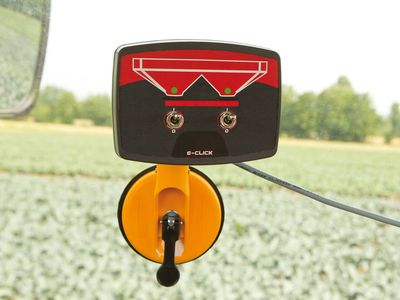 The special thing about E-Click: The electrical dispensing gates can be controlled separately from each other on the left and right side using a toggle switch. A control diode displays the current gate position. This greatly minimises operating errors.
The E-Click control terminal is elegantly connected to the fertiliser spreader by a cable. The need to connect hydraulic hoses is thus completely eliminated. High-quality, dust and splash-proof actuators ensure a high level of operating comfort and a long service life for your investment.
The electric E-Click dispensing gate control is particularly suitable for smaller tractors with only a few hydraulic connections.
Direct-Flow Control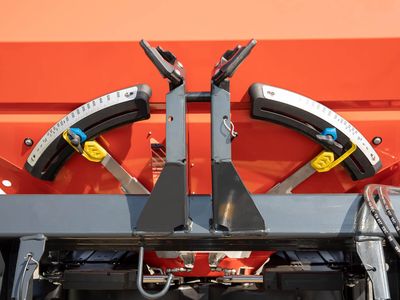 The smooth and incremental pre-selection of the volume to be spread starting from 3 kg/ha is based on the large, volume-proportional direct flow control scale, in short 'DfC scale'. The DfC scale allows an exact change to be made to the application rate without any additional aids.
It's very easy:
A 10% higher scale value means a 10% higher application rate. This greatly simplifies the precise setting of the ideal application rate from one field to another.
Single-Chamber Principle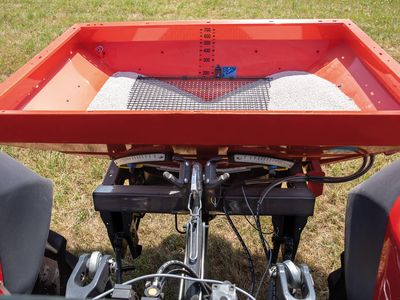 The MDS single-chamber container system is ideal for use in clipped or small-sized terrain:
There's no one-sided emptying of the container, even with one-sided closed dispensing gate. The spreading material can be used right down to the last grain. This saves time and increases efficiency.
Gate Version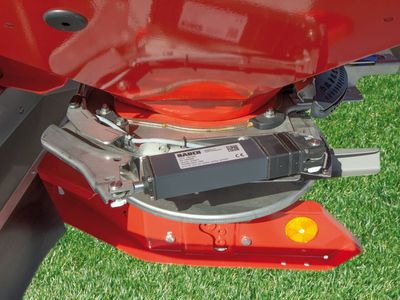 THE RIGHT GATE VERSION FOR EVERY TRACTOR
The dispensing gates are remotely and elegantly opened and closed mechanically, hydraulically, or electrically on the left and right side independent of each other. Spreading is even possible on wedge-shaped surfaces with partial width accuracy.
Quantron-A | MDS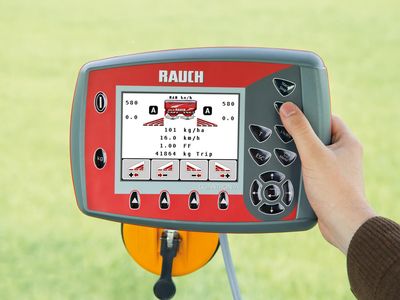 QUANTRON-A regulates the opening position of the dispensing gates and thus the flow rate depending on the driving speed and the specified application rate.
When the driving speed varies, the preselected application rate always stays the same. QUANTRON-A impresses users with its large, clear display, intuitive menu navigation, and USB port.
All functions can be electrically remotely controlled, conveniently and safely with just one hand: MDS with QUANTRON-A not only offers elegant ease of use but also increases the precision and efficiency when spreading valuable fertiliser granules.
Agitators | MDS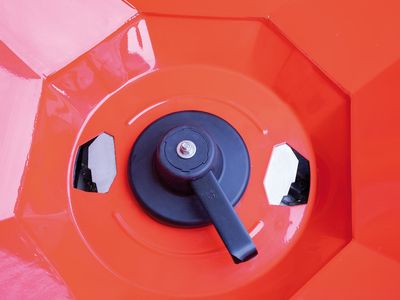 RWK 7K for grass seeds
With the RWF agitator finger, MDS can be quickly converted into a seed spreader with a wide spreading width.
Agitator RWK 15 for powdery fertilisers
With RWK 15, powdery fertilisers are also fed cleanly to the dispensing gates.
RWK 6K for caking fertiliser
Key Features
Hopper Capacity
700 - 1,800L
Technical Specifications
| Model Variant | MDS 18.2 D |
| --- | --- |
| Basic machine | |
| Working width [ m ] | 10 – 24 |
| Hopper volume [ l ] | 700 |
| Max. capacity [ kg ] | 1,800 |
| Container size [ cm ] | 190 x 120 |
| Filling height [ cm ] | 91 |
| Filling width [ cm ] | 180 |
| Empty weight [ kg ] | 210 |
| Tractor attachment | Three point category II/III |
| Drive | M drive: Universal drive shaft with shear bolt 540 rpm |
| Metering | |
| Slide actuation/quantity regulation | Hydraulic metering slide |
| Servomotors | - |
| Variable Rate Control | No |
| Electronics | - |
| Section control | VariSpread V2 partial width controller |
| Limited border spreading | Limited border spreading with GSE, Limited border spreading with TELIMAT |
Specifications
Hopper Cover | MDS
The perfect protection against humidity and dirt from the tyres.
All MDS hopper covers over the entire filling area thanks to the high-quality "convertible-like folding" feature.
So filling can carry on, trouble-free, as usual.
Hopper covers are offered for all MDS models, except the viticulture spreader 8.2, both the basic equipment as well as all attachment versions.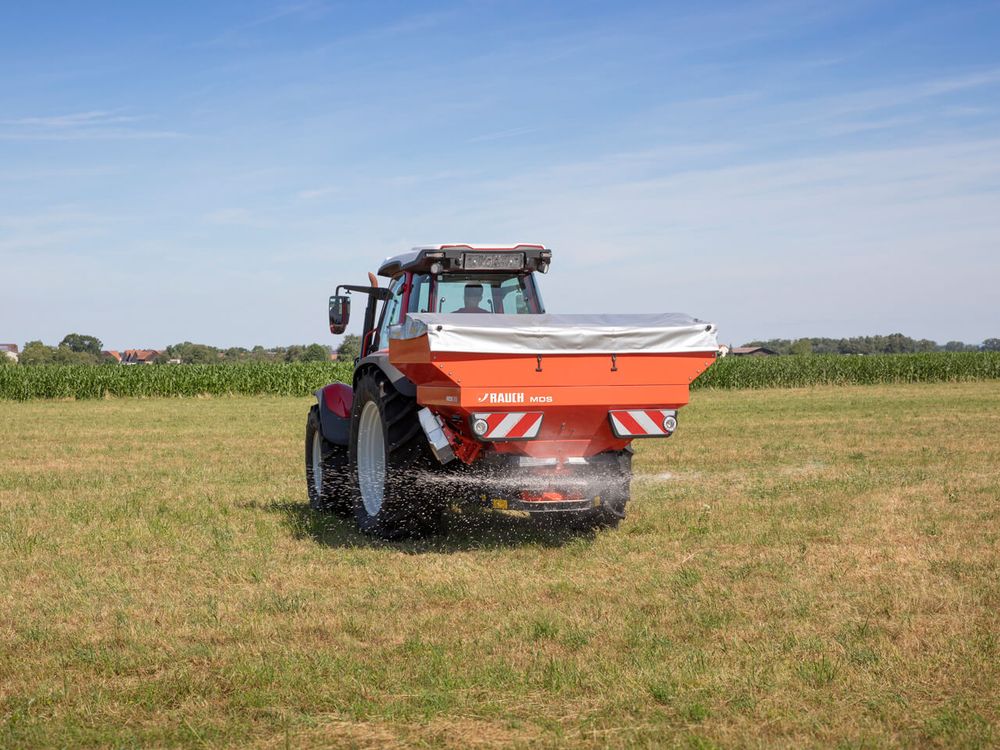 MDS Lighting with Warning Signs
The high-quality, dust and splash-proof lighting ensures safety while in operation. High-quality reflectors meet all the requirements of the Highway Code.
GPS Speed Sensor
In order to be able to regulate spreading according to the driving speed, the QUANTRON-A and QUANTRON-K2 scatter computers, and the ISOBUS from the tractor unit. If the tractor itself is not equipped with this signal, either a wheel sensor must be retrofitted or you can use this GPS speed sensor
A GPS signal in combination with an acceleration sensor generates a high-precision speed signal. This is especially recommended if the spreader is used in combination with several tractors or is also shared by the different companies.
Another great advantage of this is that the slip of the tractor tyres in wet conditions or slopes does not matter and does not adversely affect the spreading result.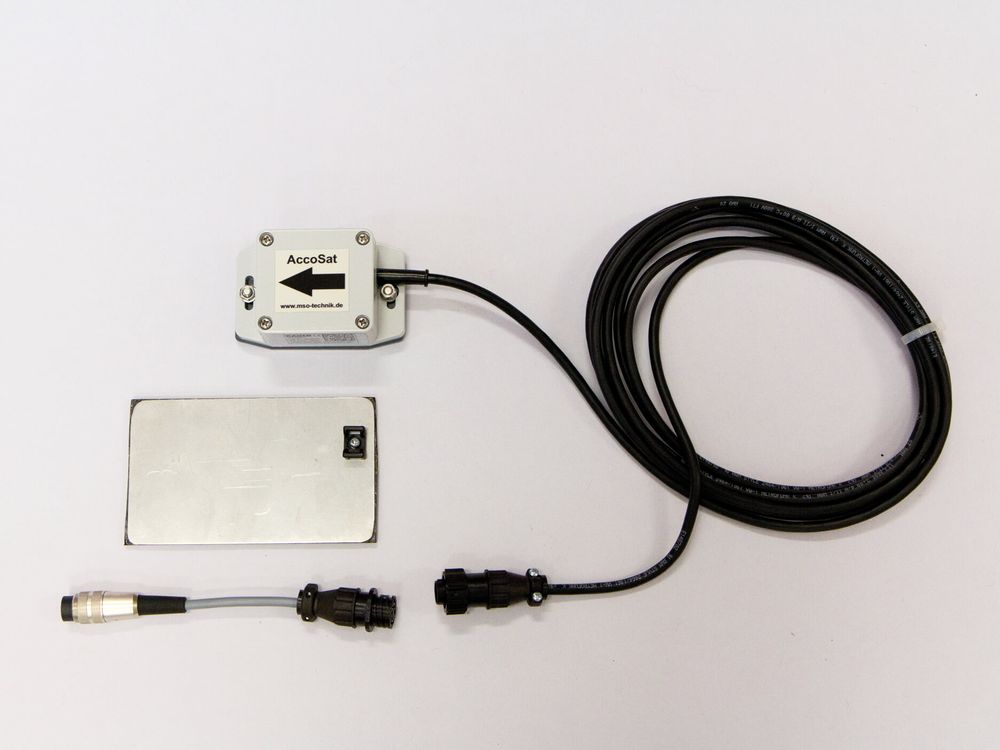 Limited Border Spreading GSE MDS
If the tracks lie directly on the edge of the field, the thrower shield GSE 7 can be used in combination with one-sided spreading. The distance to the border can be varied between 0 to 2m. With a hydraulic remote control, GSE 7 can be raised and lowered from the cab via a single-acting tractor control valve (optional).
The precise MDS edge spreading and border thrower shields comply with the European environmental standard (EN 13739-1) for fertiliser spreaders and make a decisive contribution to greater economy and environmental protection
Limited Border Spreading Telimat MDS
For all spreaders, the MDS spreader discs can be quickly and easily adjusted to edge spreading with the multi-disc system both on the right and on the left.
Spread conveniently at borders and edges and without having to climb down from the driver's seat – with TELIMAT T1* it's no problem. The thrower shield is quickly and conveniently controlled remotely from the tractor. A smooth and seamless transition from border spreading to standard spreading without interrupting the spreader saves time and increases effectiveness. TELIMAT can be adjusted to any track or tramline system: simply, quickly and accurately. TELIMAT T1 requires a free double acting tractor control valve.
*TELIMAT T1 is available for MDS 18.2/20.2
The precise MDS edge spreading and border thrower shields comply with the European environmental standard (EN 13739-1) for fertiliser spreaders and make a decisive contribution to greater economy and environmental protection.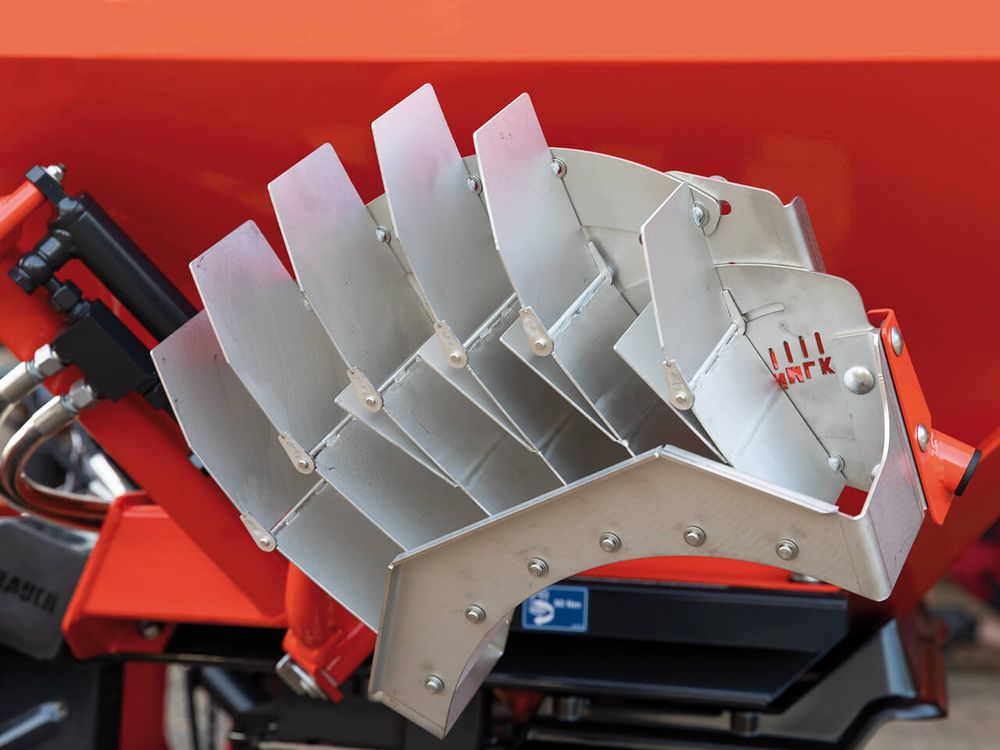 GPS Control with CCI 800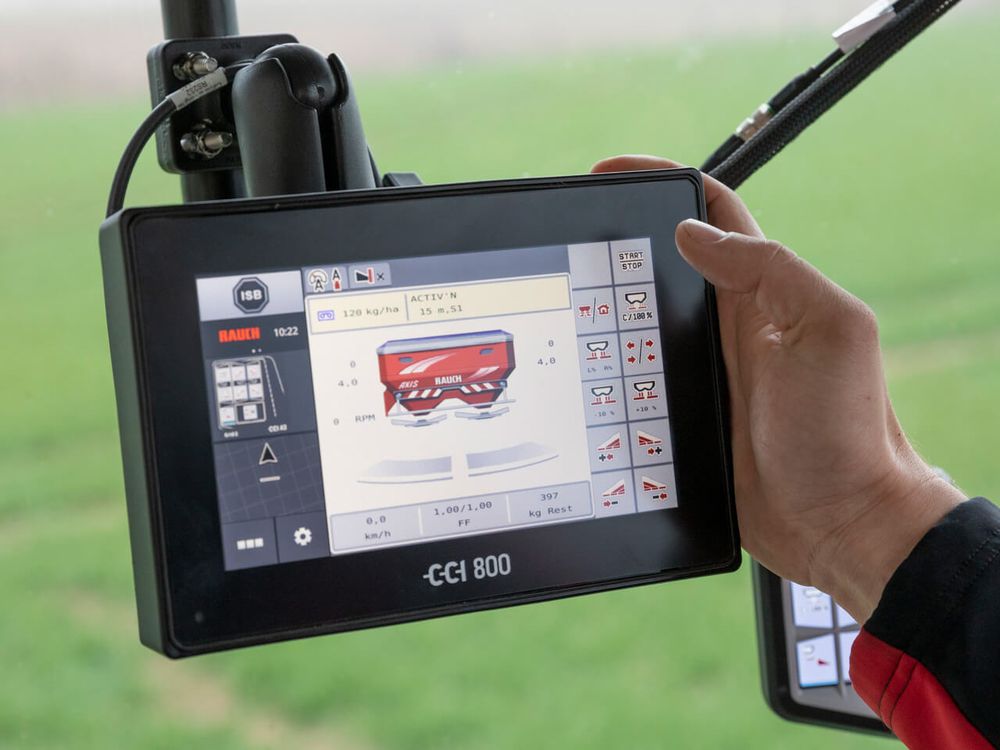 Practical Test Set
More safety when spreading
RAUCH PPS 5 Practical test set permits cross-distribution to be checked and corrected quickly and easily in the field. This provides even more reliability and accuracy during spreading, particularly with fertilisers of lower quality, problematic discharge properties or unknown origin.
In combination with the clear and comprehensible AXIS-CDA tuning logic, corrections are amazingly easy and secure.
PPS 5 components:
10 collecting trays
5 measuring cylinders
1 roller tape measure
clear, logical operating instructions
Row Spreading Device RV 2M
MDS with RV 2M – for accurate metering
The RV 2M row spreading device enables selective nutrient application in the root area of row crops. No granulate falls into the machine track. This saves valuable fertiliser. The RV 2M can be easily and variably adjusted to row distances between 2 and 5m, and can be converted back from row to area spreading in only a few minutes.
RV 2M can be combined with all MDS models.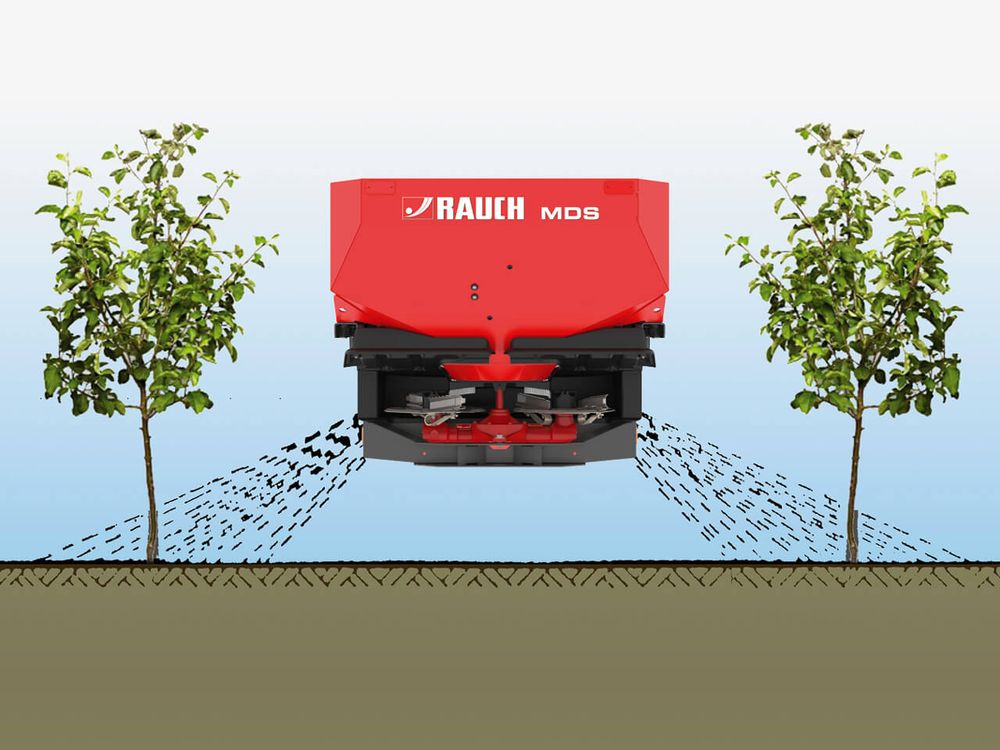 Row Spreading Device RFZ 7
RFZ 7 is the spreading device specially designed for row crops such as maize, strawberries, vegetables etc. that allows up to seven rows to be precisely supplied with the desired fertiliser at the same time. The RFZ 7 can be adjusted to different metering quantities and row spacing in just a few simple steps.
RFZ 7 can be combined with MDS 14.2, 18.2 and 20.2
Telimat Sensor
The optional AXIS Telimat sensor shows in the display of the QUANTRON-A or the ISOBUS terminal whether the Telimat thrower shield is in the ready position. It happens again and again that not only smartphone-happy farmers forget to raise the Telimat again after limited border spreading, thereby causing errors in the spreading results. Just one look at the display and you will be reminded of the Telimat's position.